Financing Challenge: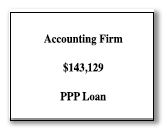 An accounting firm based in New York City had been rejected by a major bank for a PPP loan, because they had merged with another firm in early 2019, and then decoupled from that firm in the Fall of 2019, and therefore did not have a full year of 2019 payroll documentation as a separate entity, per the SBA requirements.
The accounting firm was referred to Asset Enhancement Solutions, LLC ("AES") by their law firm, for a second look at their situation.
Creative Financing Solution:
AES understood that despite the technical requirement of providing a full year of payroll information, the accounting firm had all the same staffers and there was a good case to be made for their eligibility for this loan program. The first two lenders that AES approached with this loan also rejected it. Many lenders were swamped with loan applications and did not have the time or interest in pursuing any but the most plain vanilla applications.
But AES does not give up! The third lender approached with this company's loan application agreed to process the loan, with a detailed written explanation of the situation we provided. The loan amount was based on a couple of months' payroll-related costs from 2019, rather than the entire year's, and the firm owner attested that those months were representative
AES spent a great deal of time going through the details and documenting everything very carefully for this somewhat complicated application. Gathering the correct files and supplemental materials can be a challenging and time-consuming effort.
Several phone and Zoom calls took place with the client as the client wanted to be very involved with every aspect of the process. They wanted to ensure their fiscal records and loan amount were painstakingly measured. AES was there to answer every question.
The client's application was approved and they received a $143,129 PPP loan.
Contact
Neil Seiden, 516-767-0100
neil.seiden@assetenhancement.com