Financing Challenge: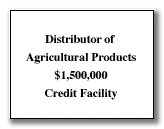 An early stage publicly traded company focused on the worldwide sourcing and selling of specialty agricultural products was faced with a number of challenges.
The Company, based on the West Coast became public in 2008 through a reverse merger. Unfortunately, this transaction did not raise any proceeds for the Company. For the year ended December 31, 2008, the Company had no revenue and reported a loss in excess of $1 million.
The Company had customers ready to purchase rail cars of fresh produce and had contracts in place with farmers to distribute their products. As this would be the first time the Company was purchasing from these growers, the growers required payment upon receipt and acceptance of the commodities.
To protect sellers of perishable agricultural products from delayed payment, Congress in 1930 established the Perishable Agricultural Commodities Act ("PACA"). PACA provides that a trust, consisting of all inventory and proceeds, arises automatically upon the delivery of product and continues until a grower is paid in full.
PACA grants a super-priority lien status in favor of trade creditors who supply perishable agricultural commodities to dealers of fruits and vegetables. Thus, PACA trumps the rights of secured creditors under the Uniform Commercial Code (UCC), including perfected security interests arising from loan documents.
The ramifications of PACA to a secured lender, the need for loan advances against foreign receivables along with a $1 million loss and the start-up nature of the Company made the prospects of financing very difficult for the Company, especially during the current credit crisis.
The Company attempted to acquire financing on its own but was turned down by many lenders.
The Company was referred to Asset Enhancement Solutions, LLC, for assistance.
Creative Financing Solution:
Asset Enhancement Solutions, LLC ("AES") had experience with agricultural products and the unique challenges they pose to secured lenders.
Asset Enhancement Solutions, LLC was successful in arranging a $1.5 million expandable credit facility for the Company. This facility allowed the Company to satisfy the demands of growers who required payment upon receipt and acceptance of commodities. The Lender also agreed to increase the size of the credit facility as the Company's requirements increased.
As the Company's expansion plan includes worldwide distribution, this lender proved to be ideal for the Company as it also specialized in advancing funds against international receivables.
This line of credit facilitated the Company's initial sales and provided the momentum the Company needed to attract additional growers to represent as well as additional customers in the United States, Europe and Asia.
Since the press release announcing the Company's new financing facility, the share price of the Company's stock increased 67%.
Contact
Neil Seiden, 516-767-0100
neil.seiden@assetenhancement.com