Financing Challenge: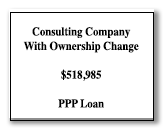 A company providing services in the gas and oil industry fell victim to a significant slow-down of operations directly caused by the coronavirus pandemic. Dealing with ongoing costs and eventually bringing their employee base back to work was the main focus at hand.
After seeing an advertisement included in the newsletter of a networking group, the company reached out.
Financing Solution:
A bit of background: the business was a new company, having established itself on March 1st. The old business had decided to end the service line, and the new business was a subdivision of the previous. The new owner re-hired the existing employees and took over contracts. AES consultants decided to apply for a PPP loan under the change of ownership eligibility requirements.
Though the first lender rejected the client's application, AES refused to let this setback impede their progress and took the client to a different lender. However, the second lender's requirements were significantly more time-consuming and laborious. Our consultants made a considerable effort analyzing documents, reformatting spreadsheets and determining the proper time period for calculations. A memo describing eligibility had to be drafted as well as a computation of the loan amount. The AES team stuck with the client for over a month in order to wade through the necessary paperwork.
Contact
Neil Seiden, 516-767-0100
neil.seiden@assetenhancement.com