Financing Challenge: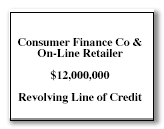 An on-line distributor of consumer products had a number of issues with its existing bank lender. The Company was previously financed by a specialty lender that had filed for bankruptcy and moved to this bank lender as they were familiar with the Company, its industry and they were able to close quickly. Although pricing and advance rate on accounts receivable were similar, the bank's covenants were tighter and more restrictive than the specialty lender. As securing a new lender quickly was vital to the Company's continued success, the Company had no choice but to move forward with this bank. The Company was not in a strong position to negotiate, but did verbally communicate its concerns regarding its ability to meet certain covenants.
As the Company sold consumer products, there was significant seasonality to the Company's business with the Christmas Season being the busiest time of the year. The Company had suggested to the lender that it take seasonality into account when reviewing certain covenants. However, the bank refused to do this and as expected, the Company was not in compliance with all of the covenants. The bank had also verbally agreed to a number of other items which it subsequently reneged on.
The bank and Company agreed that it was best for the Company to find a new lender.
The Company's CFO contacted over 10 lenders but was turned down by all. One of the lenders that turned down the transaction referred the Company to Asset Enhancement Solutions, LLC for assistance in identifying the appropriate lender.
Financing Solution:
The Company retained Asset Enhancement Solutions, LLC ("AES") to arrange financing with a lender that would take into account the seasonality of the business as well as other special items that were critically important for the Company to be able to maximize loan availability.
AES performed its due diligence on the Company so that it could understand the industry, Company, Principals, challenges and the special items that were critical to a successful relationship with a new lender.
AES was successful in arranging financing with a bank that understood the Company's business and who had the flexibility to provide the Company with the terms that were critical to its ability to maximize availability on the Line of Credit. The interest rate on this Revolving Line of Credit was Libor plus 375 basis points.
Contact
Neil Seiden, 516-767-0100
neil.seiden@assetenhancement.com