Financing Challenge: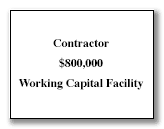 A Delaware based Contractor was devastated by the recent economic downturn. The Company reported losses of $200,000, $246,000 and $462,000 in 2010, 2009 and 2008 respectively. Despite these losses, the Company was still operational but badly needed working capital to attempt a turnaround of its business. A few years earlier, the Company's lender converted its Line of Credit to a Term Loan collateralized by the same owner occupied real estate that was collateralized by a mortgage. With declining real estate values, the Appraised Value of the property approximated that of the outstanding loans.
The Company's lender said that it would consider giving up the first position in the Company's accounts receivable if the Company were able to pay-down a sizable portion of its outstanding loan balance.
The Company contacted a number of lenders but was turned down by all.
The Company was referred to Asset Enhancement Solutions, LLC for assistance by its Chief Financial Officer.
Creative Financing Solution:
Asset Enhancement Solutions, LLC (AES) was advised of additional items that made this situation even more challenging. The Company invoiced its customers Progress Billings and also recognized revenue using the Percentage of Completion Method of Accounting. Advancing funds against Progress Billings is a non-starter for the vast majority of lenders. The Company also had Deficit Net Worth of $316,000.
Despite all of these issues, Asset Enhancement Solutions, LLC was able to arrange an $800,000 Line of Credit that provided the Company with the working capital it desperately needed to stay alive and commence the turnaround of its business.
At Closing of the new financing, there were enough funds available to pay-down the existing lender $250,000 which was the minimum they were willing to accept to give up their collateral spot in the first position of the accounts receivable of the Company. The new lender was also willing to enter into a Subordination Agreement with the existing lender granting them a 2nd position in the accounts receivable of the Company.
Contact
Neil Seiden, 516-767-0100
neil.seiden@assetenhancement.com