Financing Challenge: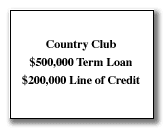 An established country club was planning a $700,000 renovation to its clubhouse. Half of the costs related to "hard costs" such as furniture while the other $350,000 related to "soft costs" such as leasehold and structural improvements. The Club had cash on hand of $200,000 available for the project and needed to borrow $500,000 to finance the balance of the project.
The good news was that the Club was debt free. The bad news was that the Club would be required to hold a formal vote of its membership if a mortgage had to be filed against its property. The Club's Board of Directors hoped to avoid a vote of the membership in fear that the proposal would be voted down. Thus, the key to this transaction was that a mortgage could not be filed against the Club's property. The Club had redecorated 10 years earlier and very much needed to redecorate. The renovation needed to take place in January and February, the two months each year when the clubhouse and dining room were closed.
To fund capital projects, the Club had previously established a capital fund which required club members to pay $40 per month into the capital fund. The Club collected approximately $100,000 per year for the capital fund and planned to use these monies to fund the annual debt service required on a $500,000 loan. To meet this tight budget, the amortization on a term loan had to be at least 5 years and the interest rate had to be very competitive.
The Club approached its existing bank but it offered to finance only $325,000 over a 3 year amortization period. The existing bank would only finance the $500,000 over a 5 year period if a mortgage could be filed against the Club's property.
The Club approached a few other banks on its own but was turned down by all.
The Club was referred to Asset Enhancement Solutions, LLC for help in securing this challenging loan.
Creative Financing Solution:
The initial lenders that AES contacted also required the filing of a mortgage against the Club's property. AES did not give up and was finally successful in finding a financial institution that would provide a $500,000 term loan without the filing of a mortgage. The term loan had an interest rate of 5.5% and a 5 year amortization period. The financial institution also offered to provide a $200,000 line of credit to replace the line of credit the Club had with its existing lender.
The redecorating and renovation project is on schedule to be completed by its February deadline.
Contact
Neil Seiden, 516-767-0100
neil.seiden@assetenhancement.com