Financing Challenge: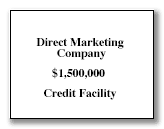 A Web based Direct Marketing company with annual revenue in excess of $15 million sought financing to support its continued growth. These funds were to be used for an aggressive marketing and advertising campaign to attract additional customers.
The Company had good cash flow but due to initial losses, a shareholder buy-out and the Principals' taking distributions significantly higher than net income, the Company had a negative net worth of approximately $5 million. While the Company had significant Enterprise Value, its balance sheet had no tangible assets to collateralize a loan.
The Company approached many Commercial Banks for financing. The banks were only interested in providing financing if the Principal pledged his personal stock portfolio as collateral and/or if they could take a second mortgage on his valuable personal residence. The Principal vehemently refused to collateralize a business loan with his personal assets.
The Company was introduced to Asset Enhancement Solutions, LLC ("AES") for assistance by its accounting firm.
Creative Financing Solution:
Based on the nature and state of the Company's business, AES advised the Principal that a first class Business Plan was essential for arranging the type of financing that the Company was seeking. AES offered to prepare this document for the Company as part of its service offering, however, the Principal decided to prepare this information together with his Chief Financial Officer. After three weeks of working on the Business Plan while simultaneously managing on-going operations and strategic planning, the Principal and CFO made very little progress. Recognizing that the Principal was both frustrated and very anxious, AES advised the Company of an interim solution that would provide half of the $3 million that the Company was seeking. Although more expensive, this $1,500,000 Bridge Loan could solve the immediate need for cash and provide the Company with the additional time it needed to create a first class Business Plan.
The Bridge Loan could be closed within ten business days and had an effective interest rate of 12%. Most importantly, the lender did not encumber the Principal's personal assets to support the loan.
Contact
Neil Seiden, 516-767-0100
neil.seiden@assetenhancement.com