Financing Challenge: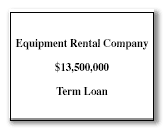 A $50 million equipment rental company began to experience significant growth due to changes in its industry. The Company's growth was dependent upon its ability to continuously purchase new equipment which it then leased or rented to customers.
Historically, the Company funded the purchase of new equipment from its profit and cash flow but also had a nominal credit facility with a commercial bank. Due to the substantial growth the Company was experiencing, it asked its current lender to increase the amount of its current facility. At this time, the Company used a very small CPA firm and the current lender was not comfortable increasing the credit facility until it received Reviewed Financial Statements from a CPA firm it felt comfortable with.
The Company retained a highly regarded CPA firm which conducted a Review of the Company's financial statements for the first six months of the year. These financials included a prior period adjustment which reduced net worth by $7,000,000. The Company reached out to many lenders on its own but was turned down by all of them as they were still uncomfortable and wanted to wait for the results of the year-end audit by the new CPA firm.
The Partner from the new CPA firm and the Relationship Manager from the existing bank both introduced the Company to Asset Enhancement Solutions, LLC ("AES") for assistance, as the Company would lose out on new business if it could not immediately purchase additional equipment that it could lease/rent out.
Financing Solution:
The challenge was that time was of the essence, as the Company could not afford to wait until its year-end financial statements were finalized by the new CPA firm. If the Company could not provide equipment to new customers, one of its competitors would. Thus, AES had to identify a lender that would fund equipment purchases at a reasonable interest rate without audited year-end financial statements.
AES was successful in quickly arranging a $5 million facility with a private lender at an interest rate of 7.5%. When the year-end financial statements were finalized, AES reached out to a few other lenders. However, most of these lenders took a pass on the transaction as they did not like the industry that the Company served. Fortunately, AES was able to identify a lender that felt comfortable with the Company's industry and business model. This lender began the relationship by first offering a $2.5 million term loan and then after six months financed an additional $6 million term loan. The interest rate for these term loans was Libor plus 400 basis points.
This financing allowed the Company to significantly grow its business!
Contact
Neil Seiden, 516-767-0100
neil.seiden@assetenhancement.com