Financing Challenge: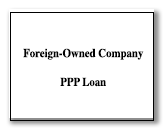 A recruitment and resourcing solutions company, focused on financial, accounting, technology and transformation roles ran into trouble when attempting to apply for a PPP loan. The company is foreign-owned, and though that is explicitly allowed, it does present a degree of complication that was enough for two banks to reject the company's application previously.
Frustrated, the company was referred to Asset Enhancement Solutions, LLC by another client.
Financing Solution:
As stated, a primary issue was the foreign ownership of the company, but other problems arose as well, such as the bank's unwillingness to include employer-paid benefits in calculating the loan amount, though that is allowed by the Small Business Administration (SBA). Because auditing that information was deemed too labor-intensive by the bank, AES opted to utilize pure payroll for calculations instead.
Ultimately, AES and the client worked together to reach a resolution. AES provided a sample application to the client, who followed it to a tee. The sample application included documents and templates for guidance. After a couple of Zoom calls, the client was able to submit their PPP loan application.
This credit facility provided the Company with ample funds to both refinance its existing bank debt and enough excess working capital to fund its growth strategy of opening additional stores.
Contact
Neil Seiden, 516-767-0100
neil.seiden@assetenhancement.com