Financing Challenge: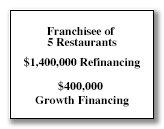 A Company that owned five franchised restaurants sought to refinance $1.4 million in outstanding debt. The private lender that had provided this financing "called" the loan requesting that it be paid back as soon as possible. The Company contacted numerous lenders but was turned down by all. The Company then attempted to raise equity to meet the lender's demand for repayment. The Company was unsuccessful in attracting an equity investor.
The Company did not own the real estate which housed its restaurants. The majority of the Company's assets were comprised of the leasehold improvements and equipment purchased to build-out the five existing restaurants. The Company had a deficit net worth of $200,000 as of the end of the prior fiscal year.
In addition to its loan being called, the Company also had another major challenge. The Company feared that if it could not obtain financing, it might have to forfeit its rights to open the five additional restaurants as contracted in its Franchise Agreement. The Company had previously paid the Franchise Fees for these five additional restaurants but required additional financing of approximately $2.5 million during the next two years to build-out these additional locations.
The Company was referred to Asset Enhancement Solutions, LLC for assistance by its corporate attorney.
Creative Financing Solution:
Asset Enhancement Solutions, LLC ("AES") provided a solution that solved a number of the Company's challenges. First, AES arranged a $1,400,000 Term Loan that paid off the loan that had been called by the existing lender. Second, AES was able to arrange an additional $400,000 of growth financing which will allow the Company to open a new restaurant at a prime location. The Company had been negotiating with the landlord of this location but was unable to pull the trigger due to the lack of financing. Third, this financial institution is also prepared to finance the build-out of the four additional restaurants the Company is required to open during the next two years. Lastly and perhaps most importantly, this solution saved the Company's Principal from having to give up a significant amount of equity as he was able to retain 100% ownership of the Company.
The Term Loan amortizes over a ten year period with interest slightly above the Prime Rate.
Contact
Neil Seiden, 516-767-0100
neil.seiden@assetenhancement.com