Financing Challenge: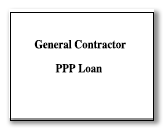 A contractor wanted to apply for the PPP loan, but he was overwhelmed and intimidated by what he needed to do to apply. While he was an expert craftsman in his industry, he was not financially savvy and asked his wife to assist him in applying or a PPP loan. Although his wife worked for a CPA firm in an administrative capacity she had no idea where to seek assistance. She asked the Managing Partner of the CPA firm for advice and he referred her to Asset Enhancement Solutions, LLC.
Financing Solution:
We were contacted by the contractor's wife and advised her to go to our website to learn about the information and documentation that was needed to complete an application for a PPP loan for an Independent Contractor. We advised her about the complimentary workshops we were hosting on Zoom on a daily basis and that once she had gathered all the necessary information she should attend one of these workshops. At these workshops which are held 2 to 3 times per day, a CPA on our team will have participants access the online application of one of our lenders and simultaneously coach applicants on how to complete their online application by following them on their phone or second screen step-by-step as they complete their application on their computer.
In addition to this CPA, we try to have an additional guest CPA who specializes in taxes in the webinar as well. The mission of this tax specialist is to answer technical questions from participants relating to taxes and other issues that come up in the Zoom chat room. At the end of the workshop, an applicant should be able to click on the send button and submit their application to the lender. If they have problems and need additional assistance after the workshop we are there to assist them.
We received very positive feedback from the contractor's wife who listened to our directions and gathered all the appropriate documents in advance of the workshop. She participated in the workshop, entered all the appropriate information and uploaded the appropriate documents. At the end of the session she was able to click on the send button and apply to our lender for her husband's PPP loan.
Contact
To learn more about how we can assist you with your PPP loan, please contact
Neil Seiden, 516-767-0100
neil.seiden@assetenhancement.com