Financing Challenge: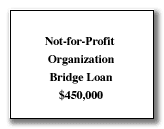 A New York City, Not-for-Profit Organization ("Organization") had severe financial problems. The Organization is a 501 ( c ) (3) that fosters and aids economically and socially deprived members in its community.
In 2007, its programs incurred a deficit of $1,353,000 resulting in a cumulative year end deficit of $2,255,000. Audits by its granting agencies resulted in the Organization posting a liability to its funding agencies in the amount of $2,121,000. During 2007, the Funding Agencies began reducing monthly grants to the Organization to recoup the overpayments identified by the audits. This reduction in monthly grants created significant cash flow problems for the Organization, including its ability to fund payroll.
The Organization owned two small buildings and sought to use the equity in these buildings as collateral to support a loan. The Organization was also in the process of exercising an option from a long term agreement to purchase a third building that it was currently renting for some of its programs. The current market value of this third building was approximately six (6) times the purchase price stipulated in the agreement. The Organization's objective was to purchase this building and then resell it at market value. The profit from the sale of this building was the Organization's ultimate exit strategy for paying off additional loans and stabilizing the financial health of the Organization.
The Organization approached a number of commercial banks for an additional loan but was turned down by all of the banks.
Creative Financing Solution:
Having exhausted all its options, the Organization was referred to Asset Enhancement Solutions, LLC ("AES"). AES arranged a $450,000 Bridge Loan with a non-traditional lender. AES structured the loan so that it took a second lien position behind the first mortgages in the two buildings owned by the Organization. These second mortgages saved the Organization a significant amount of money as it did not have to refinance the $860,000 in first mortgages at the higher interest rate charged by the Bridge Lender. The Bridge Loan was interest only and required a guarantee of only three months.
This non-traditional lender did not require the Organization to provide historical financial statements!
The $450,000 helped the Organization close the budget gap in its current fiscal year.
Asset Enhancement Solutions, LLC is currently working with the Organization on a Bridge Loan that will generate cash for the Organization once it closes on the purchase of the third building. This second Bridge Loan will close the budget gap for the current fiscal year as well as the budget gap for the following fiscal year.
Contact
Neil Seiden, 516-767-0100
neil.seiden@assetenhancement.com