Financing Challenge: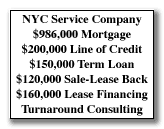 A New York City service company with revenue of $5 million incurred a loss of $400,000 in 2006 and projects a loss of $500,000 for 2007. The Company has been able to continue operations only by stretching out its vendor payables. Past due payables peaked to $1.1 million and were 180 days past due, jeopardizing the Company's ability to continue operating.
The Company had a $250,000 line of credit and a $500,000 building mortgage with a commercial bank which was in danger of being called by the bank.
Fortunately, the Company was awarded a large contract which gave them the potential to return to profitability. The Company needed immediate working capital to bring its vendors current and buy time until the Company started to earn revenue from the large contract it recently received.
Creative Financing Solution:
Asset Enhancement Solutions, LLC ("AES") arranged $1.6 million of financing for the Company without jeopardizing the Company's existing $250,000 line of credit as follows:
AES arranged a Line of Credit for $200,000 at an interest rate of prime plus 2%.
AES arranged a $120,000 Sale-Leaseback of computer hardware and software that had been purchased in 2006. The leasing company reimbursed the Company for the $120,000 it had previously disbursed.
AES arranged $160,000 of new lease financing which allowed the Company to purchase the additional computer hardware and software needed to keep up with the technology of its competitors.
AES also arranged a 5 year term loan of $150,000 which provided the Company with additional funds to pay down its vendors.
The Company had a $500,000 commercial real estate mortgage on a property appraised at $1,160,000 (50% LTV) with a 15 year amortization. AES refinanced this loan with a new $986,000 mortgage which allowed the Company to pull out $475,000 to be used to repay vendors. The Loan to Value (LTV) on this loan was 85% with an amortization period of 20 years.
Turnaround Consulting Services

In addition to arranging financing for the Company, AES successfully provided Turnaround Consulting services to the Company. The following is a summary of key accomplishments in this area:
Reviewed responsibilities of all personnel, identified non-valued added staff resulting in the reduction of head count by 25%.
Orchestrated the clean-up of the Company's books and records. v Revamped accounting procedures and converted Company to new accounting software which facilitated accurate monthly financial reporting.
The Company's Principal very much needed a partner to help manage the Company. AES identified the appropriate individual and helped facilitate the terms between the two parties.
AES is proud that it was able to help stabilize this Company.
Contact
Neil Seiden, 516-767-0100
neil.seiden@assetenhancement.com