Financing Challenge: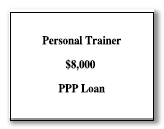 A partner at a prominent law firm needed PPP assistance for the personal trainer that trains many of lawyers in the gym in their office building in addition to training other clients at their homes. As the office has been closed and people are self-quarantining, the personal trainer has been trying to migrate many of her clients to Zoom workouts instead. However, the trainer is suffering financially and is in desperate need of a PPP loan.
The attorney wanted to make sure someone would hold her hand through the PPP loan application process, so he referred her to Asset Enhancement Solutions, LLC for assistance.
Financing Solution:
The attorney asked that we do him a favor and provide VIP assistance to this personal trainer. We advised him that we provide VIP treatment to all of our clients. Our senior consultant first advised the trainer as to what documents and information she would need for submission of her PPP application. Our consultant then did a one-on-one Zoom session with her that concluded with her pressing the send button to submit her application to the lender.
The trainer's PPP loan was approved by both the lender and the SBA.
Contact
To learn more about how we can assist you with your PPP loan, please contact
Neil Seiden, 516-767-0100
neil.seiden@assetenhancement.com