Financing Challenge: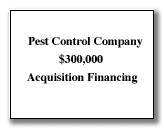 A small Pest Control Company had the opportunity to purchase a competitor in its industry. The Company sought traditional bank financing to finance this acquisition but was declined by a number of banks.
Factors contributing to commercial banks turning down this loan included the following:
Personal bankruptcy of Principal in 1999
Personal credit scores that were only "Fair"
Acquiring Company showed only a $500 profit for the year
Target Company showed only a $1,100 profit for the year
The Principal had a personal residence with equity but did not want to take out a Home-Equity loan.
Creative Financing Solution:
Asset Enhancement Solutions, LLC ("AES") arranged financing with a non-traditional lender that visited the Company and met with the Principal. The Lender became comfortable with the Principal, obtained a good understanding of the Principal's personal history and the "cash component" prevalent in the pest control industry.
The Lender took a 2nd position on the Principal's personal residence to secure the loan. During the Title Search it was discovered that another creditor already had an existing lien against the Principal's residence. The Principal had been making monthly payments to this creditor for many years at a very high interest rate and the outstanding balance on this obligation was $80,000. To secure its position and reduce the Principal's high interest costs, the Lender increased the loan amount by $80,000 in order to pay-off this creditor.
The interest rate on this 10 year term loan was Prime plus 2.75%.
Contact
Neil Seiden, 516-767-0100
neil.seiden@assetenhancement.com