Financing Challenge: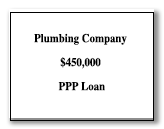 Plumbing company in Suffolk County, New York was referred to us by a bank not participating in the PPP Loan Program after round one of PPP funds went dry. Many lenders stopped taking applications at this time, but the lenders we teamed up with were still accepting applications in anticipation of these federal funds being replenished.
The CPA asked AES if we had a lender that was still willing to accept and process PPP applications. We advised the CPA that we were working with lenders that were still accepting and processing applications in anticipation of additional federal funds that would replenish the PPP program.
By processing their application through AES they were able to be towards the front of the line for the second round of funding.
Financing Solution:
The client had challenges in understanding the information that was required to be submitted to the lender. The troubleshooters at AES provided the client with guidance and the client was notified that they were approved for $450,000.
Contact
To learn more about how we can assist you with your PPP loan, please contact
Neil Seiden, 516-767-0100
neil.seiden@assetenhancement.com