Financing Challenge: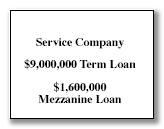 The Principals of a successful service company hoped to acquire a company in its industry that served a different geographic area. The target company, with adjusted EBITDA of $2.5 million per year was one of the most profitable and highly regarded companies in the industry and was considered to be a "Jewel" by the Principals. The $15 million acquisition was to be structured as a highly leveraged transaction with the Principals contributing cash of only $2 million (13% of the purchase price), the Sellers holding long-term notes of $4 million and the Buyers seeking to borrow $9 million.
The Principals had contingent liabilities of $50 million from personal guarantees for debt owed by other entities they owned. This exposure and the high leverage of the proposed transaction spooked the banks the Principals had approached directly on their own. The Principals were turned down by more than 12 banks but very much wanted to purchase the "Jewel" of the industry.
The Principals were referred to Asset Enhancement Solutions, LLC for assistance by one of their trusted advisors.
Creative Financing Solution:
Asset Enhancement Solutions, LLC ("AES") was successful in accomplishing the Principals' objectives. AES arranged a $9,000,000 Term Loan for the acquisition of the target company. The Term Loan had an interest rate of Prime plus 1.5% with a floor of 5.25%.
However, prior to finalizing the purchase agreement, the Seller changed the terms of the transaction. The Seller now wanted an additional $2 million in cash at closing in lieu of holding a long-term Seller Note.
The institution issuing the $9 million Term Loan was not interested in providing additional financing for this already highly leveraged transaction. The Principals had only a small portion of the additional cash requested by the Seller.
Fortunately, AES was also able to arrange a $1.6 million Mezzanine Loan, allowing the Principals to satisfy the new terms imposed by the Seller. The Mezzanine Loan was interest only, at a rate of 14%.
Contact
Neil Seiden, 516-767-0100
neil.seiden@assetenhancement.com