Financing Challenge: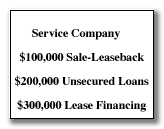 A growing service company coming off of two years of consecutive losses needed additional financing to both stabilize and expand its business. The Company was maxed out on its Line of Credit, but needed additional working capital to reduce its past due accounts payable. Additionally, the Company was opening a new office and needed $150,000 to purchase new equipment. Shortly thereafter, the Company decided to move its corporate headquarters, and required $150,000 for furniture, wiring and cabling, and $100,000 for moving expenses and set-up costs. The Company had an existing Line of Credit appropriate for the nature of its business. This Lender was fully collateralized and had a UCC-1 Financing Statement in place.
Creative Financing Solution:
Asset-Enhancement Solutions ("AES") arranged a total of $600,000 in financing with a number of different lenders and leasing companies and was able to arrange the following financing:


Sale-Leaseback of $100,000 on unencumbered equipment that had previously been purchased via a lease.
Unsecured Loan of $100,000 which was earmarked for moving expenses and set-up costs related to opening new offices.
Financing for the purchase and installation of new communications and computer equipment totaling $150,000
Unsecured Loans totaling $100,000.
Financing for the purchase of new cubicles and the related wiring and cabling totaling $150,000.
The Unsecured Loans of $200,000 and Sale-Leaseback of $100,000 provided critical working capital needed to off-set the effects of the operating losses incurred the past two years. This additional $300,000 proved to be vital to the Company's liquidity.
Contact
Neil Seiden, 516-767-0100
neil.seiden@assetenhancement.com