Financing Challenge: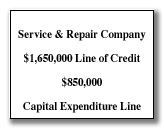 A growing service and repair company with a customer base consisting of Fortune 500 OEM's (Original Equipment Manufacturers) was seeking a larger line of credit and lease financing to support its growth.
After reporting a nominal profit of $39,000 in 2006 on sales of $12 million and a profit of $118,000 in 2005 on sales of $4.3 million, the Company incurred a loss of $800,000 in 2007 on sales of $13.1 million.
As a cost reduction measure, the Company chose to purchase its own facility. The Company needed the new line of credit to fund a portion of the down-payment and closing costs on the property it was purchasing. The lease financing was required to finance the purchase of $375,000 of warehouse and transportation equipment. The Company applied for financing with several banks and leasing companies but was unsuccessful.
Creative Financing Solution:
Having been turned down by various lenders and leasing companies, the Company was introduced by one of its attorneys to Asset Enhancement Solutions, LLC ("AES"). Despite the Company's large loss in 2007 and negative net worth of $550,000, AES was able to arrange a $2,500,000 credit facility for the Company. The facility consisted of a Revolving Line of Credit of $1,650,000 and a Capital Expenditure Line of $850,000.
While the Company initially sought lease financing of $375,000 for the purchase of specific equipment, AES was able to arrange a Capital Expenditure Line of $850,000 which provided the Company with the ability to purchase the additional equipment, trucks, computers and software it required to facilitate its future growth.
The Line of Credit and Term Loan for capital expenditures were priced at an interest rate of Prime plus 1.5%. The Term Loan amortized on a straight-line basis over a period of 60 months. The Company's existing bank which had a long-term association with the Company was able to continue the cash management relationship with the Company.
This $2,500,000 Credit Facility allowed the Company to purchase its own facility and the fixed assets needed to facilitate its growth.
Contact
Neil Seiden, 516-767-0100
neil.seiden@assetenhancement.com