Financing Challenge: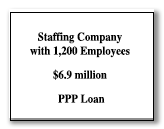 A staffing Company based in Florida with 1,200 employees did not believe they were eligible for a PPP loan because they had over 500 employees. The CFO read a memorandum prepared by Asset Enhancement Solutions, LLC ("AES") that was attached to an email sent out by an organization seeking to offer assistance, support and resources to its members.
The memo noted that businesses with over 500 employees and Portfolio Companies of PE firms could be eligible for PPP Loans under certain circumstances.
Financing Solution:
The CFO reached out to AES on Saturday, May 9th at 4:11 p.m., and by 5:44 p.m. our team had a conference call with him to gain an understanding of the business.
Due to the complexity of the situation we hosted a conference call with the CFO and an outside consultant we retained at our expense to advise on PPP eligibility. An AES senior consultant worked closely with the CFO on our proprietary forms and submitted the PPP loan application to one of the bank lenders we serve as an agent for on May 12th. The client's application was approved on May 13th.
Thus, a business with 1,200 employees which did not think it was eligible received a $6.9 million PPP loan because they read an email and memorandum received in an email from an organization that was trying to help it members.
Contact
To learn more about how we can assist you with your PPP loan, please contact
Neil Seiden, 516-767-0100
neil.seiden@assetenhancement.com