Financing Challenge: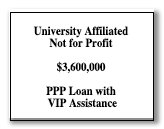 After not knowing where to go to for a PPP loan, the CFO of a Not for Profit was referred to Asset Enhancement Solutions, LLC for assistance. The CFO was introduced to one of our senior consultants who held her hand every step of the application process. After providing her with a link on our website for the online application of one of the lenders we teamed up with, our consultant was available by phone and email to assist her as questions came up regarding the application.
Financing Solution:
Our consultant is a CPA so he was able to speak the CFO's language and assist her with any technical and financial issues that came up. When the lender had some questions regarding the application our senior consultant did some trouble shooting and help resolve all issues as they came up.
Three days after the application was finalized, the CFO was notified that the organization's application was approved by the SBA.
Following is an exert from an email we received from the CFO upon her learning that they were approved for a $3.6 million PPP loan, "This is super exciting news that has been relayed to the President of our Board and Executive Director! We are beyond grateful for the heroics that everyone involved from your team has been able to initiate and complete on our behalf. We must figure out a good way for us to thank you all formally. This is truly outstanding."
Contact
To learn more about how we can assist you with your PPP loan, please contact
Neil Seiden, 516-767-0100
neil.seiden@assetenhancement.com