Financing Challenge: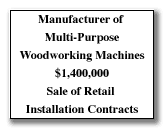 A $14 million publicly held company based in Ohio was faced with a number of challenges. The Company is engaged in the manufacturing and marketing of power woodworking tools designed primarily for the home workshop.
The Company's sales and profits had been declining on an annual basis. In its last fiscal year, sales declined 10% while profit decreased by 50%.
The Company sells its products on-line, via phone solicitation, through product demonstration programs, and on an exclusive basis to one major national retailer. Accordingly, the Company's commercial accounts receivable of $1.1 million were almost all from this one retailer.
In an effort to increase revenue through direct sales to consumers at product demonstration events, the Company has self financed the sale of products to consumers who are unable to pay via cash or bank issued credit cards. The Company has accomplished this by issuing its own credit card for which it takes the financial risk. The Company issues cards to consumers with A, B, C & D credits. The Company had $1.1 million in receivables due from consumers.
The company also owned a 120,000 square foot building sitting on 6 acres valued at $2.9 million and still had a fair amount of equity left in the property.
The Company had a revolving line of credit with a bank collateralized by receivable and inventory and a mortgage on its real estate but was seeking more availability on both to fund operations.
The Company attempted to refinance this debt but was turned down by its existing bank as well as other financial institutions.
The Company was referred to Asset Enhancement Solutions, LLC for assistance.
Creative Financing Solution:
Asset Enhancement Solutions, LLC ("AES") contacted its aggressive financing sources in an attempt to get the Company more availability on its collateral base, but it too was turned down due to the concentration of accounts receivable and deteriorating performance of the Company.
As lenders were unwilling to extend the Company additional credit, AES changed its focus to the pool of consumer receivables that were self financed by the Company.
While it was difficult to find an institution that would lend against these consumer receivables, AES was able to arrange for the sale of these existing receivables to a financial institution and obtain the institution's commitment to purchase future consumer installment contracts from the Company.
This transaction yielded the Company the funds it required to continue ongoing operations.
Contact
Neil Seiden, 516-767-0100
neil.seiden@assetenhancement.com